5 looks for the five weekdays below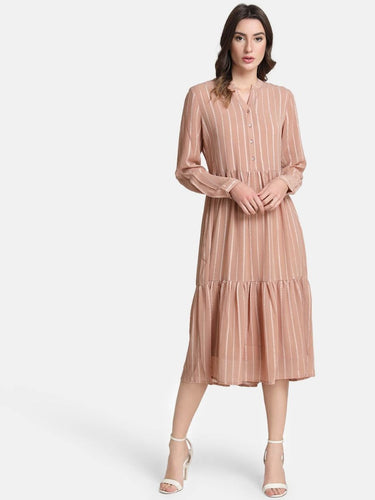 MONDAY
Lift up your spirits after the relaxing weekend and opt out for a breezy outfit for your Monday- Blues! In the scorching heat, a dress like this will not only keep you cool but also save you from the hassle of what to wear with what! The perfect length for any working woman with full sleeves and tonal colors. This Shadow Striped Tired Midi Dress - summers are officially here and so is the trend of midi dresses. This free-style tiered dress is perfect for the weather and can be worn with a nude pair of stilettoes.
TUESDAY
The second day of the week calls for some floral fun. Summers and prints go hand in hand. This cut sleeve top with smocking detail and ruffles make it apt to worn for work. The fitted denim with a front seam gives a bit more formal look that your regular denim. You may even add a cool blazer to complete the look if needed. Pro-tip: Try to omit accessories like earrings with such necklines.
Floral printed Ruffle Detailed Top + Dark blue front Seam jeans
Pair a ruffled floral top with dark blue denim for the casual attire for work. The colors are fresh and can surely get you through those Monday Blues
WEDNESDAY
Wednesdays are for Whites! After setting a trend with the neutral and floral patterns, the third day can be more simple and classy. We are mostly in a hurry to reach work and picking a basic white top can result in a fashion statement for sure. Summers make you choose such fresh options and yet make you look effortlessly stylish! 
White puffed sleeved top paired with paper back trousers with belt detail is the new cool of bottoms. A color like this when teamed with whites or blacks brings out a mood that goes with almost any occasion.
Perfect combo for your Wednesday look! Breezy white top with contrast pants will make a style statement for sure!
THURSDAY
It's almost Friday Eve! Yay! For those important meetings, an outfit like this is a perfect choice. Black trousers with buttons along with marble printed knot detail shirt will surely give you a sleek look or you may also try jumpsuit. The dark tones make a lot of us feel more confident that lighter hues. You may tuck in or not and style this combination as per your mood.
Marble printed crop shirt with twisted knot in the front and tie up detail at the back paired along with flared pants with button details and a pair of platform heels and your favorite tote bag to complete the look!
FRIDAY
Back to Basics. A white shirt with blue denim can never go wrong. By the end of the week we are mostly drained in trying to figure out what to wear and what not. And let's admit, not all of us are blessed to wear casuals as work wear dresses even on weekends. Therefore, you can surely get playful with the choice of denim with a tucked in white shirt that has small detail elements to make it stand out from the rest. You may wear your basic black stilettoes complete the look. The look is casual, classy and extremely comfortable to carry. Accessories with your statement jewelry and you're good to go!