HEALTH BENEFITS OF CYCLING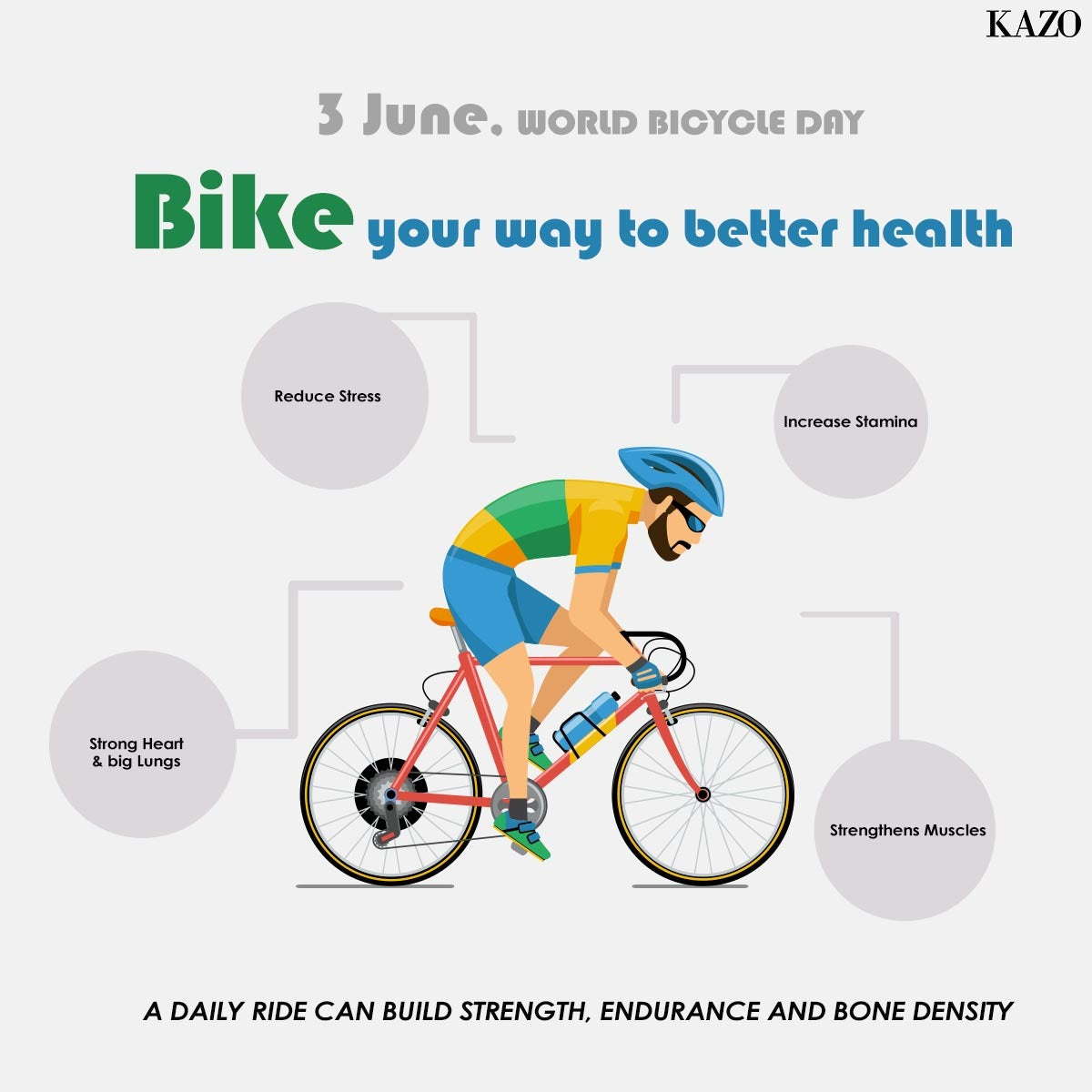 This World Bicycle's Day let's explore the various benefits of cycling and why you should incorporate this activity in your daily life.
In the post-covid era it has become increasingly important that we take more care of ourselves and strive to be more health conscious.
There are numerous health benefits of cycling, here are a few-
Improves Mental Health

-Cycling is one of the few activities that can make you feel good along with improving your physical health. Cycling pumps blood around your body at a faster rate which results in a rapid release of endorphins and other feel good hormones like dopamine and serotonin that can positively affect mental health.

Promotes Weight Loss

- This one is a no brainer. Like any other exercise,cycling also promotes weight loss. But, the rate at which it does so is quicker and more long-lasting. It also tones and firms your body, especially legs.

Promotes Heart and Lung Health- 

Cycling increases the heart rate and gets the blood pumping around in your body which promotes better functioning of the heart and consequently other organs. So, next time instead of using public transport or your own car, cycle your way to work and save petrol, cash and take care of your heart health.

It Boosts Brain Activity-

Cycling has been repeatedly linked to brain health, it improves cognitive skills, navigation skills and your spatial awareness. It also improves reaction time, memory and creative thinking. So, the next time you're stuck at something or experiencing a creative block, cycling may be your best bet.

Corrects Sleeping Patterns and Promotes Longevity-

With all the stress in our life and never-ending screen time most people have trouble sleeping. It is scientifically proven that cycling can promote fitness and make you healthier and happier, it can also reduce stress and boost confidence.
 Along with these numerous health benefits, cycling also has a lot to offer to the environment. As we all know, air pollution is one of the many problems that the world is facing right now. Quality of air has significantly reduced in most parts of the world, giving rise to a myriad of respiratory illnesses.
Cycling is a simple, cost-effective way of reducing air pollution and noise pollution as this form of transportation does not emit any greenhouse gases, it can effectively reduce global warming provided more and more people switch to cycling for their daily commute. Opting to use a bicycle for commuting instead of your car is one of the simplest ways to reduce your carbon footprint and contribute towards a better environment which is more greener and cleaner.
Here, we have a few of our garments for you to wear to your next cycling trip. All of them are carefully made so as to give you the utmost comfort while you work towards achieving better health. All of them have a relaxed fit and are made of breathable fabrics. They are trendy and fashionable without compromising on the level of comfort.
Shop the collection now